I. BRIEF BACKGROUND
In organizational and legal terms Yosothor is a new creation. Yosothor was born, however, after a long period of gestation, summarized below.
At the start, in 2000, two scholars established a journal of Khmer studies entitled Udaya. In the wake of this academic initiative, the need to popularize knowledge was increasingly felt. Other colleagues, teachers, students… joined the small team to set up a second cultural information network, KhmeRenaissance, comprising two publication formats: online and in print. These achievements were made possible with the initial assistance of The Japan Foundation and the Cambodian APSARA Authority, and subsequently that of "Friends of Khmer Culture, Inc. (FOKCI). It was on this foundation that the team decided to establish a more stable structure: Yosothor.
II. STRUCTURE
Yosothor is a non-profit non-governmental organization with a strong cultural focus. It is recognized by the Cambodian Ministry of the Interior with the following organizational chart.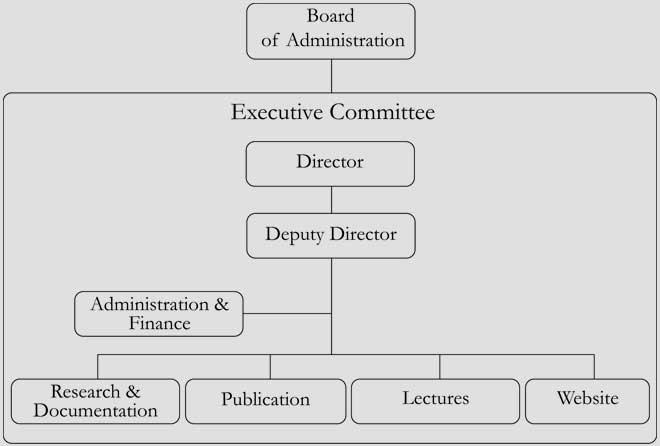 1. Board of Directors
The Board of Directors' role is to provide general directives to the Executive Committee and to oversee their implementation. It is composed of:
Heng Sophady, Rector of the Royal University of Fine Arts, Phnom Penh
Joyce Clark, Friends of Khmer Culture Inc., USA
Hok Sothik, Director of SIPAR, Phnom Penh
Grégory Mikaelian, CNRS, France
Neth Barom, Royal Academy of Cambodia
Son Soubert, High Privy Councilor of His Majesty the King
Ashley Thompson, SOAS University of London
Michael Tomlan, Heritage Watch
2. Executive Committee
This committee is composed of seven members whose respective tasks are indicated in the above chart.
3. Supporting members
At present Yosothor boasts some twenty Supporting Members.
4. Friends of Yosothor
Friends of Yosothor consist of all types of donors providing an annual contribution. As of our online launch, Yosothor boasts 50 Friends. We hope to increase the number of donors.
III. ACTIVITIES
Yosothor currently has a two-pronged program of activities:
Organizing six public lectures per year. These lectures, relating to Khmer culture, are held in collaboration with the Royal University of Fine Arts: as a general guideline, in January, March, May, July, September and November.
Publishing periodicals and books both in print and electronic formats.
Udaya is our annually-published journal of Khmer studies, whose first issue appeared in 2000. In its printed edition, from issues 1 to 4, the journal benefitted from the assistance of The Japan Foundation and the APSARA Authority; issues 5 to 10 were supported by Friends of Khmer Culture, Inc. From 2014, with a five-year-assistance package from the Friends of Khmer Culture, Inc. the journal will be published online. Udaya's latest issue (No.13) appears online in 2015.
KhmeRenaissance is our cultural publication addressed to a non-academic Khmer-speaking audience, appearing online and in print. KhmeRenaissance was launched in December 2005 and is funded by Friends of Khmer Culture. The printed edition contains all items posted online in each previous year. The next issue (12) will appear in December 2017, bringing the total number of articles published to approximately 400.
Books. It is envisaged that one work on Khmer culture will be published every 18 months. The first of these, funded by Heritage Watch, was a Handbook of Old-Khmer Epigraphy, published in November 2013.
IV. INCOME SOURCES
Yosothor's revenue comes mainly from five sources:
Friends of Khmer Culture Inc. (FOKCI), to whom we owe so much, will subsidize the next issue of Udaya.
Annual donations by Cambodians and others living in Cambodia and abroad. The periodic contribution is given here simply as an indication. Donations can also be made more regularly.
Annual contribution of Friends of Yosothor, at a minimum of 100,000 Riel (or $25 or € 20).
We receive from Hanumantourism a monthly contribution of $200 for our running expenses.
External funding for specific projects, mainly for publications.
Contact: admin@yosothor.org, info@yosothor.org, yosothor@gmail.com